The 96th edition of the FIM International Six Days of Enduro (ISDE) will take place at Puy en Velay – France, the capital of the Haute-Loire department in the heart of the Auvergne region – Rhône–Alpes, from Monday 29 August to Saturday 3 September 2022.
The environment of Puy en Velay, host city of the event © Office du Tourisme Le Puy en Velay.
The first edition of the ISDE in France dates back to 1920 in Grenoble, in the same region as the next edition. The event was then called the "ISDT" for "International 6 Days of Trial", enduro did not yet exist. 60 years later, in 1980 and for the second time in its history, France hosted the ISDE in the Haute Loire in Brioude, the area where the first enduro competition in the country had been organised 8 years earlier. More recently, the last French edition of the FIM ISDE was organised in 2017 in Brive.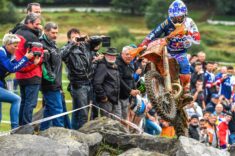 The FIM by entrusting the organisation of the event to the FFM and the Organising Committee is allowing a return to the roots of the event in France. More recently, this same region hosted the final round of the 2021 Borilli FIM Enduro GP World Championship in Langeac (just forty kilometres from Puy en Velay) and 2019 in Ambert (seventy kilometres from Puy en Velay), these two Grand Prixs enjoyed a lively success in particular from the point of view of the crowd, and the enthusiasm they brought to the event.
Lees meer "2022 FIM ISDE – 96th edition – to be held at Le Puy en Velay – France" »